Mexico City, the ancient Aztec capital, is the world's second largest urban area, home to more than 20 million people. The city features both new and old traditions. Likewise, both home grown and international retailers thrive here; among the vibrancy that typically characterizes an emerging market; Mexico's history stands alongside tradition and modernity, combining old-world elegance with sophistication.  Such is the case of El Gran Hotel Ciudad de México. From the moment you step inside you are transported to another time.  But this building wasn't always a hotel; in 1899, President Porfirio Díaz inaugurated what became the most exclusive department store in Latin America:  El Centro Mercantíl.
Imagine a shopping center with electrical installation, elevators, hot water, mailboxes, and telegraph and telephone stations. As you walk into the lobby, it's easy to visualize ladies of the Porfirio era walking down the halls of Centro Mercantil looking to buy refined fabrics, hats, jewelry, perfumes, or having tea in the afternoon just like thus European customs. The department store caused such a stir that writers, music composers, politicians, poets and artists would shop there.  One of the things that most attracted to visitors were the elevators and the Tiffany stained glass, which had been brought from France in 1908. Jacques Grubert "vitral" is one of the world's largest stained-glass masterpieces in the world; its other attraction is the art nouveau elevator from 1895. The building was the first structure in the city built in the "Chicago" technique, using iron and concrete.
It wasn't until 1968, the building's owner decided to turn it into a hotel just before the Olympic games were inaugurated in Mexico City. And so the Gran Hotel Ciudad de México was born.  Its four-floor structure lavishly decorated in Art Nouveau is considered a quintessential landmark in Mexico City. The interior preserves most of the original decor created when it was a department store. There is an undulating and enveloping stairway, which was a replica of the one from the Au Bon Marché store in Paris. The pattern of the glass ceiling evokes the railroad, a symbol of modernity of the time. The illuminated Tiffany stained glass ceiling was designed and assembled in France, by French artisan Jacques Gruber. It is made of 20,000 brightly colored glass parts; the iron soffit allows the passage of sunlight using 150 lamps when it gets lighted.
The Tiffany technique consists of using Favrile glass to transmit texture and rich colors. Famous musical composer Agustín Lara was so bewildered by the stained glass at El Gran Hotel de la Ciudad de México, that he plaid the piano in the lobby. The 19th century elevators, which are still operational, and the magnificent Louis XV chandelier at the entrance are distinctive symbols of one of Mexico's most treasured architectural gems. The entrance hall highlights a marble floor, two dark pilasters and two big aviaries adorned with stained glass, which were added in 1968 when the department store was converted into a hotel.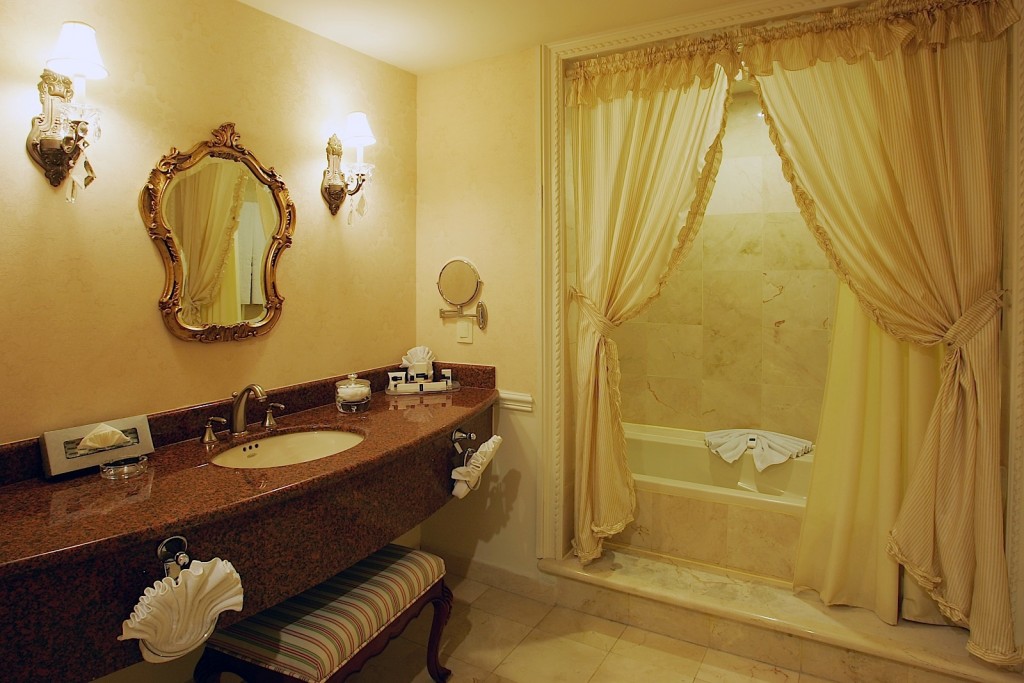 The Centro Mercantil closed its doors in 1958 and it was left in disuse for almost a decade, until it was decided to be demolished for the purpose of building a hotel. But when landscapers saw that the ironworks and elevators -which had already been dismantled and sold to merchants shopping for rusted iron- were in good condition, they rescued them on the way to the junkyard. It wasn't until 1968 that a hotel was inaugurated here, with 120 guest rooms operated by Howard Johnson. El Gran Hotel de la Ciudad de México became one of the favorite places or ionic comedian Cantinflas. 
It's an experience in itself to stay at this hotel while you enjoy a unique blend of traditional and cotemporary décor as you sink into a plush bed. Many rooms also feature stunning views of the vibrant Zócalo Square just outside the hotel. If you are lucky to stay at one of the 18 rooms that overlook the Palacio Nacional, you will feel as though you are a part of it. The hotel's lobby still preserves the tradition of live piano bar. While Thursdays are for storytellers, the hotels feature theatrical plays on Fridays.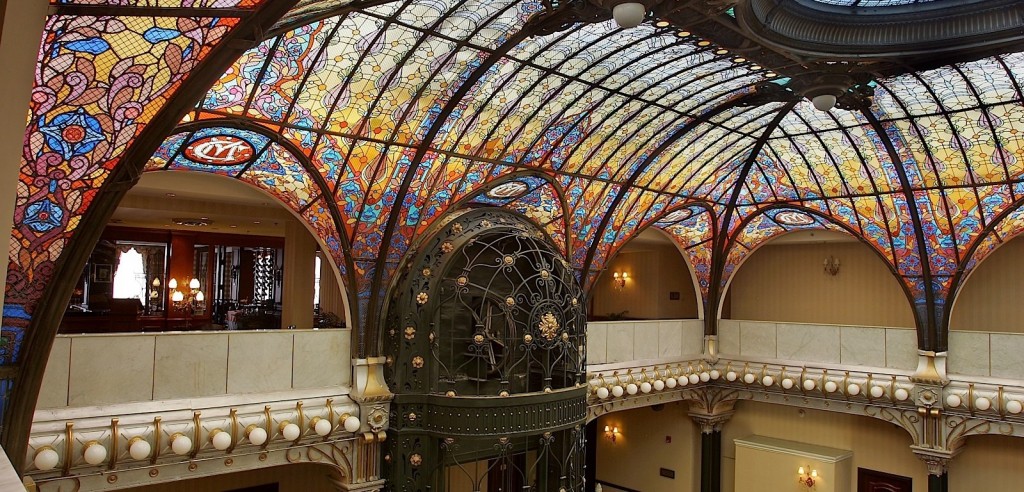 All in all, the beauty, luxury and magnificence of this hotel, where games of light and colors pour down from the heights of the stained glass like a rain of magical glow, captivate visitors and guests like few hotels in the world.
El Gran Hotel de la Ciudad de México closed doors in 2003 for two years; so extensive refurbishment could take place to preserve the original architecture and atmosphere.  Today, this hotels boasts a palatial ambience one can simply enjoy by walking through its facilities, sipping on your favorite drink are savoring a gourmet meal at the restaurant.
The 60 rooms are decorated in classical style and include minibars, coffee/tea makers, Wi-Fi (for a fee) and flat-panel LCD TVs with satellite channels. Other amenities include a 24-hour fitness center, a business center, adjacent parking (for a fee), and international cafe, and lobby piano bar. You can also marvel at spectacular scenery from the Terraza Restaurant, which is perched on the fifth floor. The hotel restaurant serves up a variety of three course breakfasts fresh fruit plates and great coffee. Upon arrival they send up balloons and chocolate covered strawberries. When it's time to explore, ask the knowledgeable concierge for recommendations on the best shows, events and attractions in Mexico City. A 24-hour fitness area and well-equipped business center are among the other amenities you can enjoy.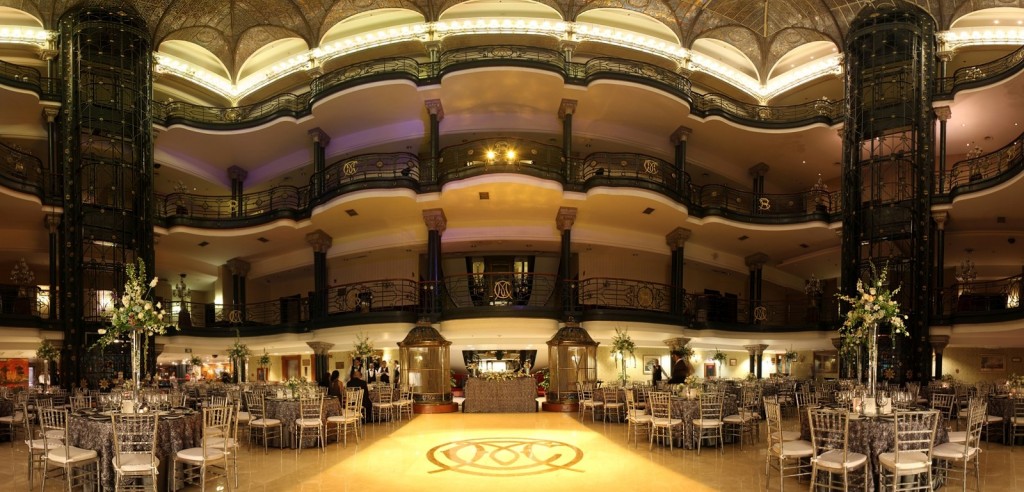 Gran Hotel Ciudad de Mexico is the place where Mexico history and culture come together – located in the heart of Mexico City and with the most beautiful main square – Plaza de la Constitución- view, the Gran Hotel Ciudad de Mexico is nowadays the central point of Mexico cultural, political, financial, and social life.
Films such as 'License to kill', 'Spectre' and 'Frida' were filmed in El Gran Hotel de la Ciudad de México.