Visitors arrive to Mexico City well aware that it is an ancient city and home to a culture and people whose memories are very much alive and evident in the streets and alleys of the present day. But even to present day Chilangos and Capitalinos of all stripes, the Aztecs of Tenochitlan are a mystery. Let's take a closer look at what is known.
The Aztec were said to be guided to the site of the present Mexico City by a god named Huitzilopochtli, "left-handed hummingbird." Upon arrival at an island in the great Lake Texcoco, they witnessed an eagle eating a snake while perched on a cactus. This vision fulfilled a prophecy made in the Aztec culture that here they were to found their city. 
Religion
Aztecs were polytheists who worshiped many gods. They believed that these gods needed to be supplicated with human hearts and blood. Prisoners were sacrificed by having their hearts cut out in the belief that Huitzilopochtli (the god of war and the sun), Tlaloc (the god of rain), and Quetzalcoatl, whose name means feathered snake,( the god of learning and wind) would look more favorably upon them. Warriors who died in battle and people who were sacrificed and women who died in childbirth all went to join the sun god in a paradise of the afterlife. 
Warfare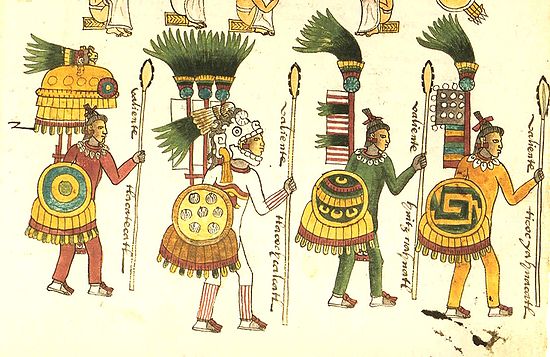 War was very important to the Aztecs. They fought with bows arrows, wooden spears, and carried wicker shields for protection. All Aztec boys were expected to serve in the army upon coming of age. However the aim of war was never to kill the enemy but to take as many captives as possible. Elite warriors, "Jaguars" wore fur costumes and those at "Eagle" class wore costumes and helmets of feathers.
Food
Maize was the staple crop of the Aztecs. Women ground maize into flour on stone slabs with a roller. These are still in use today. The flour was baked into a kind of pancake, later called a tortilla. Aztec women cooked on clay discs still called a "comal" and these were stood on stones above a fire. Maize was also made into a porridge called atole, which is still widely consumed and enjoyed in the city and in many other parts of Mexico. Aztecs "tamales" stuffed with vegetables, meat or eggs are also widely consumed even today.
The Aztec diet also included tomatoes, avocados, beans and peppers, as well as pumpkins, squashes, peanuts and amaranth seeds. Fruits such as limes and cactus fruits, complemented meat dishes like rabbits, turkeys and armadillos. Meat was very much a luxury for the Aztecs and ordinary people only ate it infrequently.
Aztec nobles consumed an alcoholic drink called octli, from fermented maguey juice a forerunner of today's pulque. Upper class Aztecs also drank chocolate flavored with vanilla and honey.
Home Life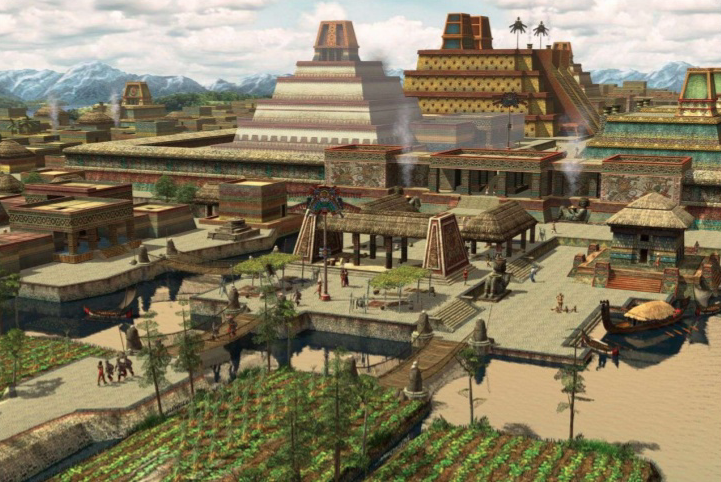 Ordinary Aztecs lived in simple huts, usually of but one room. These were made of adobe and furnishings included reed mats and low tables. Wooden chests were used to store clothes.
Aztec nobles often lived in much grander houses with many rooms. These were usually shaped in a square around a central courtyard, with a garden or fountain. By law only upper class Aztecs could build a house with a second floor, although the reasons for the law are not well understood.
Aztecs were exceptionally clean people and many parts of the city included public or semi-public steam baths. These were designed with a furnace outside to heat the interior walls sufficient to vaporize water spray in or onto the walls.
Clothing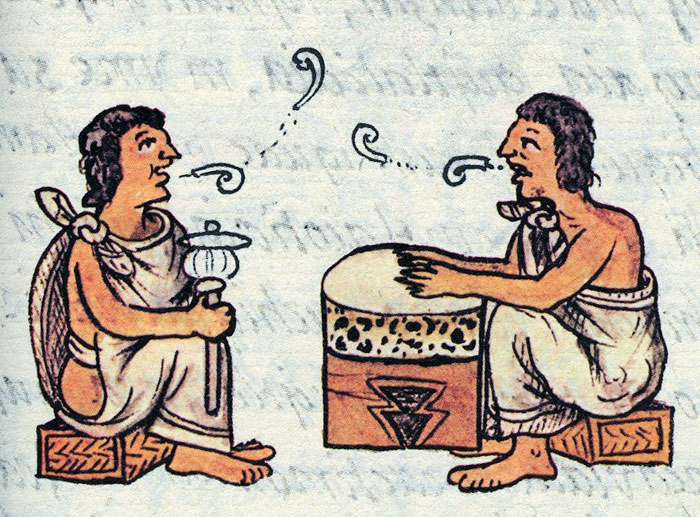 Upper class Aztecs wore cotton clothes and feather headdresses and by law, only upper class Aztecs were permitted to wear cotton. Ordinary people wore clothes made from maguey plant fiber. Men wore loincloths and cloaks tied with a knot at one shoulder. Women wore wrap around skirts and tunics with short sleeves. Married women coiled their hair on top of their heads. 
Aztec women wove clothes in their own homes and a red dye made from the cochineal beetle was, and remains a popular color for the dying of clothes.
Sport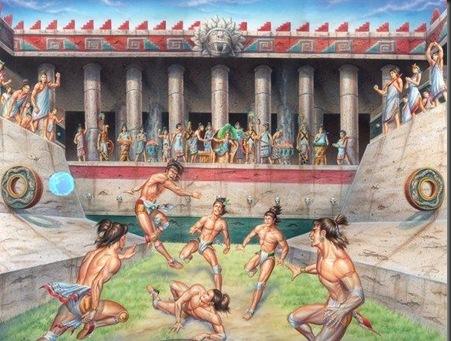 Aztec nobles played a ball game called Tlachtli. Played with a solid rubber ball, players were not allowed to use hands or feet but could only touch the ball with hips, knees or elbows. Very aggressive campaigns were undertaken to get the ball through one of two stone hoops mounted in the sides of the arena. 
Education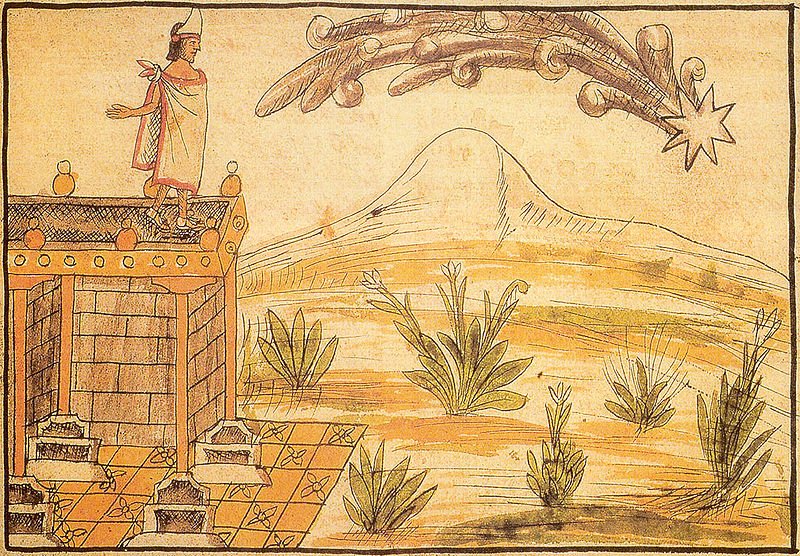 Ordinary Aztec children attended schools called telpochallis. Subjects included history and religion but also music and dance and upon coming of ages boys were taught to fight.
Noble children also attended a school called a calmecac. Sujects here included reading and writing. The Aztecs made paper from the bark of fig trees, and writing consisted of complex pictograms,  pictures which represented sounds. Upper class children also studied religion, mathematics and astrology.
Aztec children were also instructed early in life about manners and correct behavior. It was important to the Aztecs that children not complain, mock 0the old or sick, and especially not to interrupt. Punishment for breaking the rules was severe. 
Marriage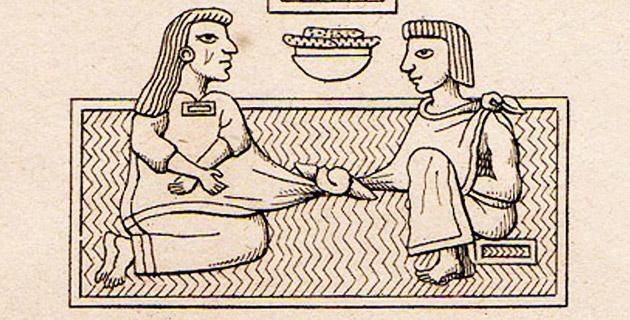 Most Aztec men got married around the age of 20. They typically did not choose their wives but matchmakers arranged weddings. Once the matchmaker chose two people to be married, the families would both need to agree.
Slavery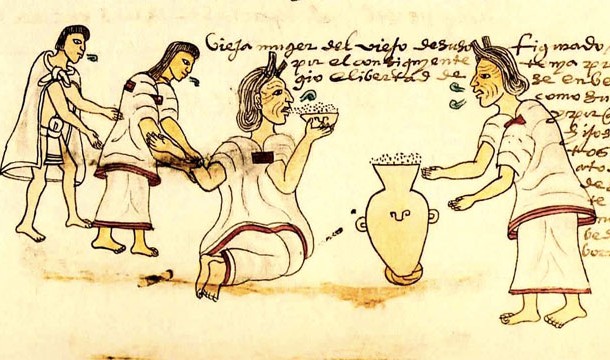 A slave's daily life was similar to the life of any freeman. Slaves could marry other slaves. Slaves were not captured people. There were two ways you could become a slave. You could be made a slave as punishment for a crime you had committed. Since most crimes were punished by death, this actually was a good alternative to most punishments. The other way was if your family sold you into slavery to pay family debts. Your period of slavery was over when your punishment was over. You could buy your way out of slavery once you paid off the debt.
Kids of slaves were not slaves. They were free citizens. They had not committed a crime and they had not been sold. Thus, they could not be slaves. But the noble's household had to support their slaves' kids and raise them as they would any kids. Having a slave could be very expensive.
Human sacrifice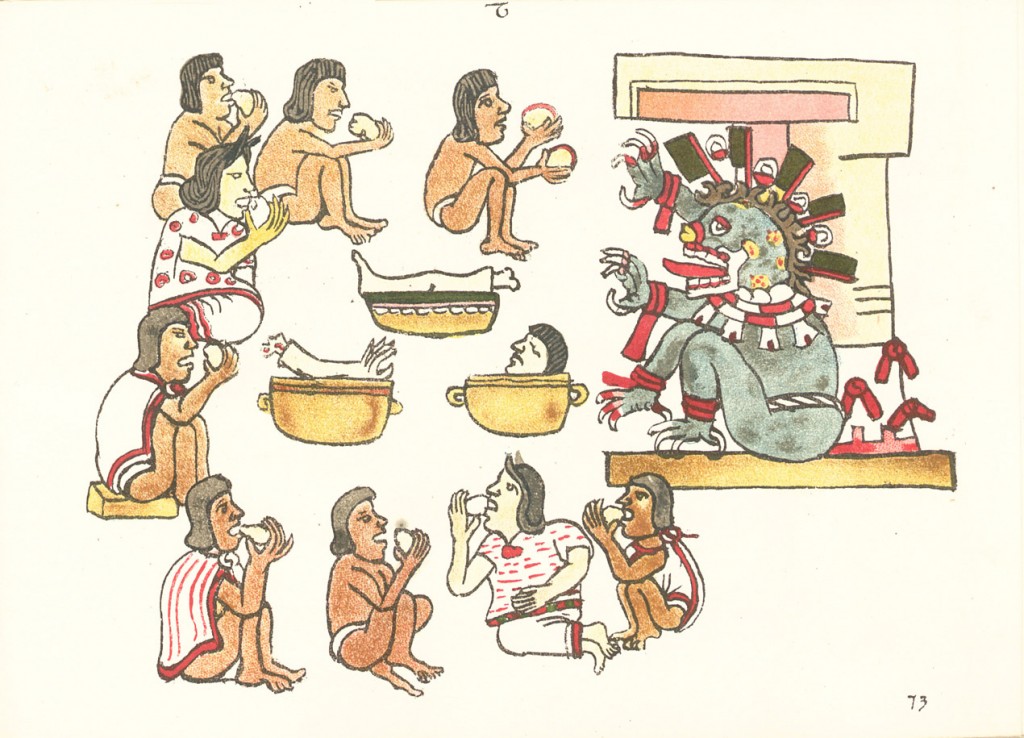 The most alarming aspect of the Aztec culture was the practice of human sacrifice known throughout Mesoamerica prior to the Spanish conquest. Spanish invaders, led by Cortés sought both to claim the new lands and resources for the Spanish Crown and to promulgate Christianity, and demanded that local native allies forswear human sacrifice and cannibalism. 
The flying bird game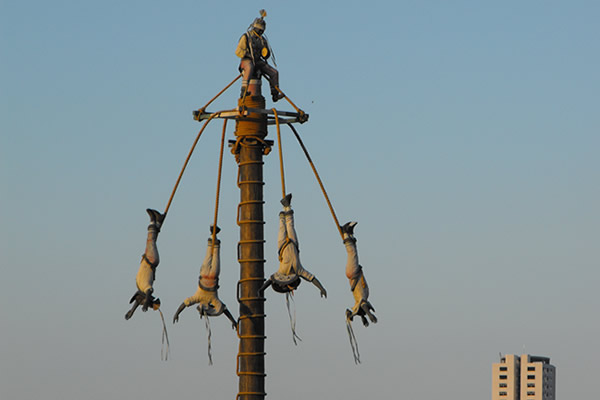 The ancient Aztecs loved a flying bird game. Players wore costumes. Costumes were designed with beaks and features, like an eagle. Wearing their heavy and colorful costumes, Aztec athletes competed to see who was the best flying bird. To compete, players climbed a special 60-90 foot high pole. When they reached the top, each player tied a rope to the top of the pole. They did not tie the rope to their legs. They had to hang onto it by holding their legs tightly together. Once their rope was tied, they would push off, and swing upside down around the pole. Points were given for speed, style, and costume design.
If their costume was made properly, and if they "flew" properly, they would look like eagles, flying overhead. Many spectators gathered to watch the flying birds. Just as the Aztecs honored good ball players, they honored athletics that flew well.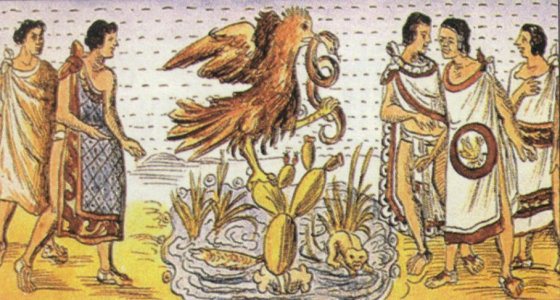 The Aztec built their city of Tenochtitlan on that site, building a great artificial island, which today is in the center of Mexico City.