Hundreds of restaurants open and close every week. But a very few will stick around for the long haul. These historic restaurants have been around longer than we have – and we expect they'll keep serving for a few more seasons yet.

By this we mean that the eatery not only has managed to remain in the same location, but it continues retaining their original style, concept and flavor. And even though they may look old, the fact they have been delighting those who have a nostalgic taste for tradition.
Here are some of the oldest restaurants in Mexico City.

1. Hostería de Santo Domingo: 1860
Mexico City's oldest restaurant has a festive atmosphere, enhanced by live piano music. The menu offers numerous dishes, but everyone comes here for the Chile en Nogada (Poblano chilies filled with a mixture usually containing ground meet, aromatics fruits and spices; topped with a walnut-based cream sauce and pomegranate seeds, giving it the three colors of the Mexican flag: green for the chili, white for the nut sauce and red for the pomegranate.
Address: Calle Belisario Domínguez 70 y 72, Centro Histórico.
Telephone: 5526 5276.
2. La Jalisciense: 1875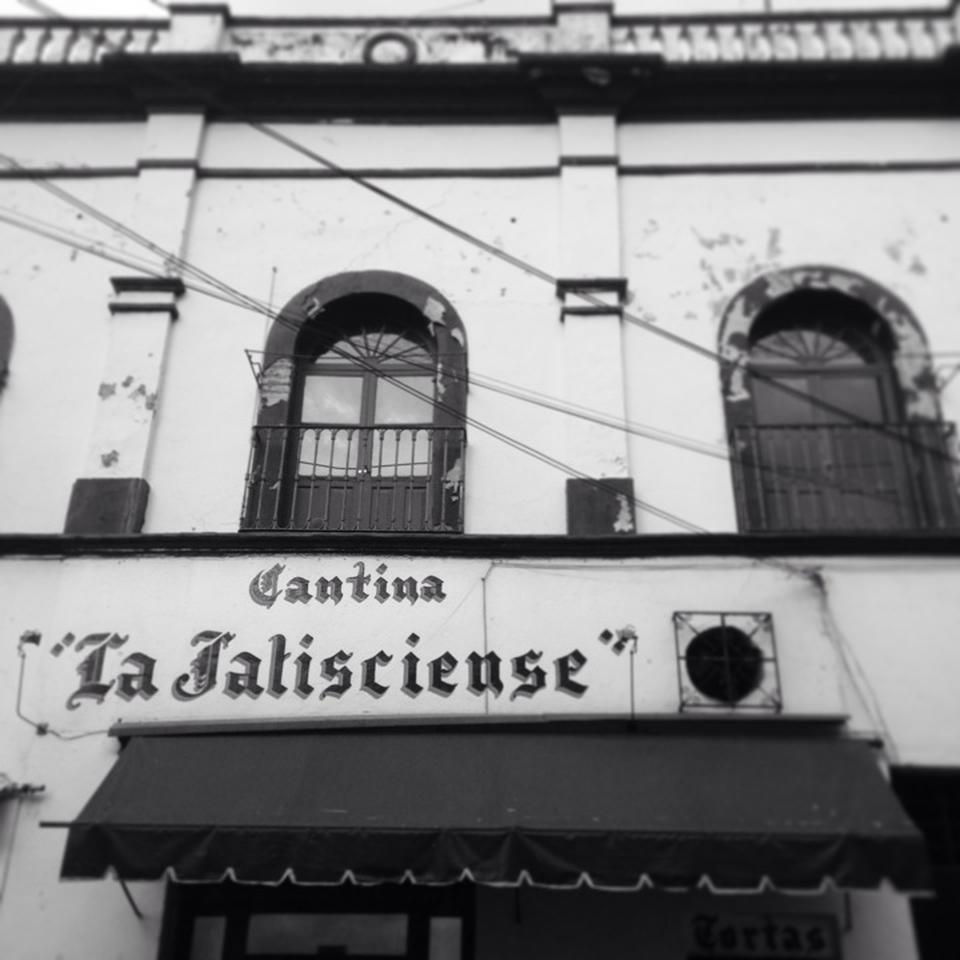 Located in the main plaza of downtown Tlalpan, this traditional and authentic Mexican cantina is 130 years old – it's the oldest in Latin America. It's easy to find: on the right is Parroquia de San Agustín, and across is the Municipal Palace. There is a trick to La Jalisciense: you have to stand by the bar and wait until a waiter assigns you a table. Its colonial architecture is colonial, with arches and high ceilings, as well as photographs and memorabilia of Mexican poet Renato Leduc, make for an interesting atmosphere. Drinks can be accompanied with codfish in a Bolillo (a variation of the baguette, but shorter in length and is often baked in a stone oven), slices of chorizo (Spanish style sausage) or Tartar meat with salty crackers, Jalapeño chili pepper, onions and soy sauce.
Address: Plaza de la Constitución 6, col. Tlalpan
Telephone: 5573 5586.
3. La Ópera: 1876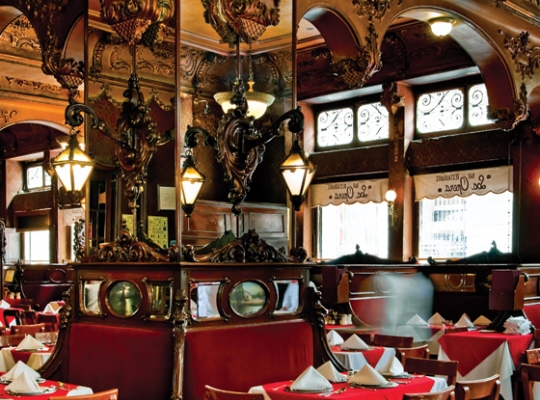 Opened in 1876, La Ópera is rather uncharacteristically ornate for a cantina. Amid the velvet drapes and chandeliers, you can order Huachinango a la Veracruzana (Veracruz-style red snapper with olives and tomatoes), eel stuffed with avocado and a considerable selection of Spanish-style Tapas with Serrano ham, anchovies, cheese, chorizo, olives etc.
For all the flourishes, and the steady stream of tourists who find there way here, Bar La Ópera retains an aura of authenticity and a considerable dollop of charm. Look up at the bullet hole in the ceiling directly above one of the booths opposite the Bar; Pancho Villa reputedly put it there.
Address: 5 de Mayo #10, corner with Filomena Mata, col. Centro.
Telephone: 5512 8959.
4. Café de Tacuba: 1912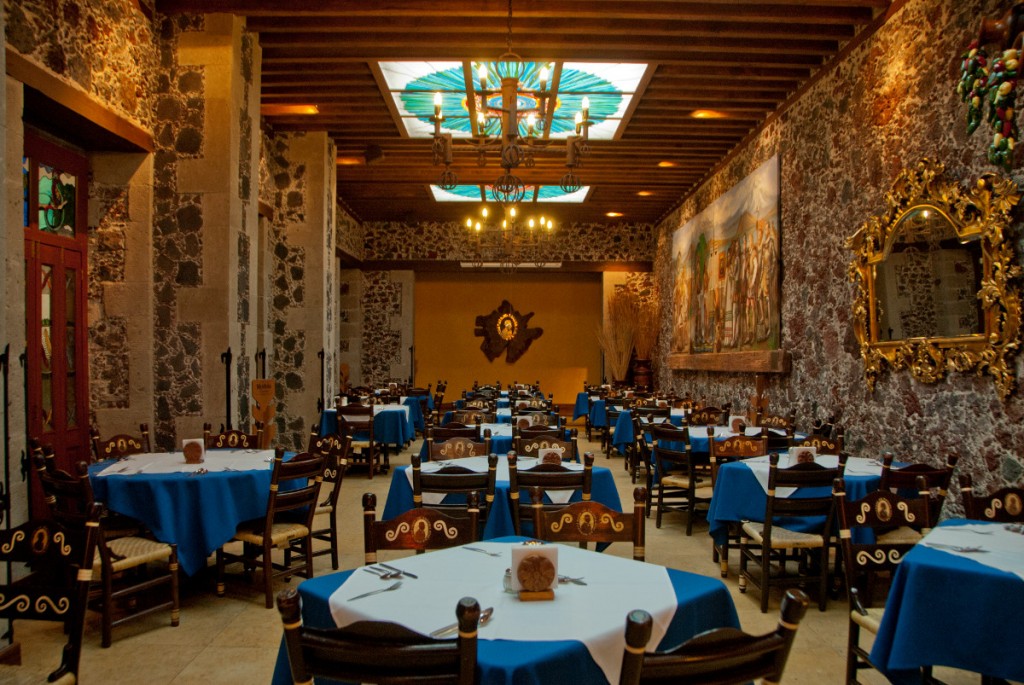 An essential, if touristy, breakfast, lunch, dinner, or snack stop downtown, this Mexican classic opened in 1912 in a section of an old convent. At the entrance to the main dining room are huge 18th-century oil paintings depicting the invention of Mole Poblano, a complex sauce featuring a variety of chilies and chocolate, which was created by the nuns in the Santa Rosa Convent in Puebla. A fantasy of colored tiles, brass lamps and oil paintings, this mainstay has served antojitos since 1912. Anotjitos are 'little cravings' or Mexican traditional appetizers prepared with corn tortillas layered with refried beans, Oaxaca cheese, lettuce, your choice of salsa and other toppings. Lively student musical groups entertain at Café Tacuba Wednesday through Sunday.
Address: Calle de Tacuba 28, col. Centro.
Telephone: 5521 2048.
5. Casa de los Azulejos: 1919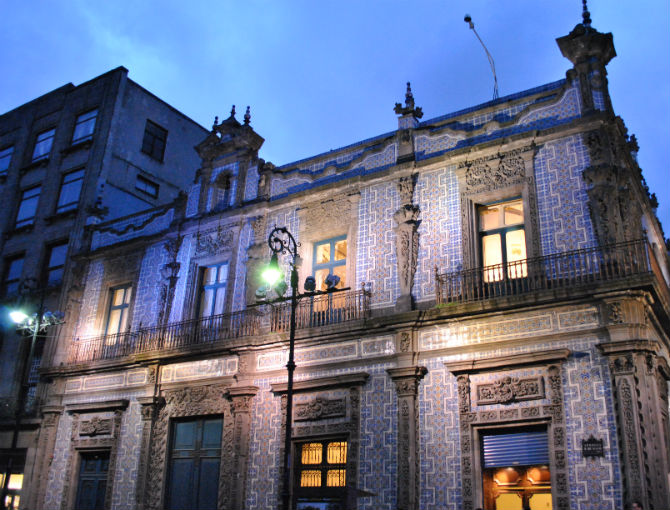 The Casa de los Azulejos or "House of Tiles" is an 18th-century palace in Downtown Mexico City, built by the Count del Valle de Orizaba family. The building is distinguished by its facade, which is covered on three sides by blue and white tile of Puebla's state. The palace remained in private hands until near the end of the 19th century. It changed hands several times before being bought by the Sanborns brothers who expanded their soda fountain/drugstore business into one of the best-recognized restaurant chains in Mexico.
Since the early 20th century, this Sanborns has been a popular place to have a meal in luxurious surroundings. The business has hosted painters, writers, actors, poets and revolutionaries. It was a symbol of a cosmopolitan atmosphere in the first half of the 20th century.
The house is currently on the Callejón de la Condesa, between 5 de Mayo Street and what is now Madero Street.  Inside, the main courtyard there is a fountain crowned with mosaics, surrounded by highly decorated columns and topped with French porcelain crowns and a stained glass roof that was added in the 20th century. On the second floor, the courtyard railings are made of copper; some made in China and some in Mexico. The overall look to the courtyard is generally Baroque but also somewhat Oriental and Moorish. There are two large murals in the interior: the first one is a peacock mural by Romanian painter Pacologue done in 1919; and one located in the main stairway by Mexican muralist José Clemente Orozco –  titled Omniscience and done in 1925.
You'll find Sanborns in the inner courtyard, which now is the flagship site for a chain of restaurants by the same name. The building was declared a national monument in 1931. Sanborns currently belongs to billionaire Carlos Slim.
Address: Av Francisco I. Madero 4, Centro.
Telephone: 5512 1331.
6. El Taquito Bullfighting Restaurant: 1923
This restaurant is one of the oldest in Mexico City; it dates back to 1923 when the streets were quite different than now they are now; today, it's crowded with peddlers.
According to Rafael Guillén, El Taquito is one of the oldest restaurants in the city. Reason is that it's always been in the same location, it has always been owned by Guillén family and it has always kept the same name. Mr. Guillén claims it was the first restaurant in Mexico City to adopt the bullfighting theme. "Grandfather Marcos was friends with meet suppliers and he met several bullfighters, among them Rodolfo Gaona who was a great bullfighter in the 1920s; all the recipes were created by Grandmother Conchita, some of which include marrow soup, Caldo Tlalpeño (a flavorful homemade chicken soup with avocado, garbanzo beans, shredded chicken, Oaxaca melted cheese, coriander and other spices); cactus soup, Mole Poblano (chocolate-tinged sauce with three chillies); Cabrito (goat meat), Arrachera (a marinated flank steak) or Tampiqueña (Tampico club style steak).
In its golden age, El Taquito had two floors and eight rooms to make sure every diner had a table. Unfortunately, after the 1985 earthquake peddlers invaded the sidewalks of Calle Carmen, customers dropped sharply and the restaurant was forced to rent part of its premises. Even tough El Taquito was left with one floor and two rooms it is still amazingly popular. Don Marcos Guillén was a bullfighting aficionado. Every Sunday he went to the Plaza de Toros where he made friends with world-renowned bullfighters. This is how he began his collection of bulls' heads, trophies, photos of celebrities and colorful bullfighter suits.
Fun fact: Rafael Guillén tells when Marilyn Monroe showed up at the restaurant "without previous notice" in 1962, and how his dad reacted: "My father was fortunate to meet Ms. Monroe and served her table; this happened six months before he died… he was thrilled to have a Hollywood celebrity of her caliber in his restaurant. My dad says she came with Emilio 'El Indio Fernández' and a group of journalists. She listened to a live Mariachi band that plaid back then, drank some margaritas and ate well; for lunch she had Marrow Soup, Mole Poblano and tacos of mescal-worms, a traditional Mexican delicacy.
Address: Calle del Carmen 69, col. Centro.
Telephone: 5526 7699.
7. Loma Linda: 1924
From its beginning in 1924, Loma Linda was one of the first restaurants in Mexico City to grill the meats over charcoal grills.
The gastronomic concept of Loma Linda is – designed to suit all tastes-, accompanied by some of the best wines, which are always a safe bet. Tradition and quality are not only shown in food but in the warm atmosphere that fills the place. The terrace seating is very popular because of the warm weather. You can start by ordering something called Choriqueso, which consists of melted cheese with bits of chorizo in it, you simply put it inside a corn or flower tortilla, and "listo", you have a great appetizer. Then you can order your choice of different cuts of steak, all served on a hot grill, this way you can cook it yourself. Next to it they'll give you fried onions with very hot green chilies that should not be mistaken for Spanish peppers. Ford sides you can order mashed potatoes, crispy fries, creamy spinach, baked potato or a fresh crispy salad (this one comes with your meat). As with most of our lunches in Mexico, the food was accompanied by lots of classic margaritas on the rocks, and the ones at Loma Linda were served to an archetypal perfection. This restaurant also prides themselves on their homemade desserts.  Make sure to make a reservation.
Address: Paseo de la Reforma 1105, col. Lomas de Chapultepec
Telephone: 5520 0024.