Chilaquiles are one of many traditional Mexican recipes that evolved to make stale tortillas tastier.  If you are planning to make some, you need  real corn tortillas. Not Doritos. Not Fritos. Corn tortillas are cut into strips or triangles and fried in corn oil until they take a crispy texture. But shape doesn't really matter. You won't get the right texture if you start with already-fried chips.
Chilaquiles are typically served with a fried egg on top, or a strip of meat alongside and refried beans on the side. They're commonly garnished with cream (not sour cream) shredded queso fresco (similar to farmers or ricotta cheese), raw onion rings, sometimes a fresh slice of avocado, and covered with a green or red sauce (not pico de gallo) made of fresh tomatoes. Usually, chilaquiles are eaten at breakfast or lunch. They are also served as the last meal at a long (epic) wedding party close to morning. Moreover, chilaquiles are often lauded as a cure for la cruda–the common hangover.
Here are some of the best places in Mexico City for heartier (and reassuring) Chilaquiles. The pronunciation is /tchil-lah-kay-less/.
Ojo de Agua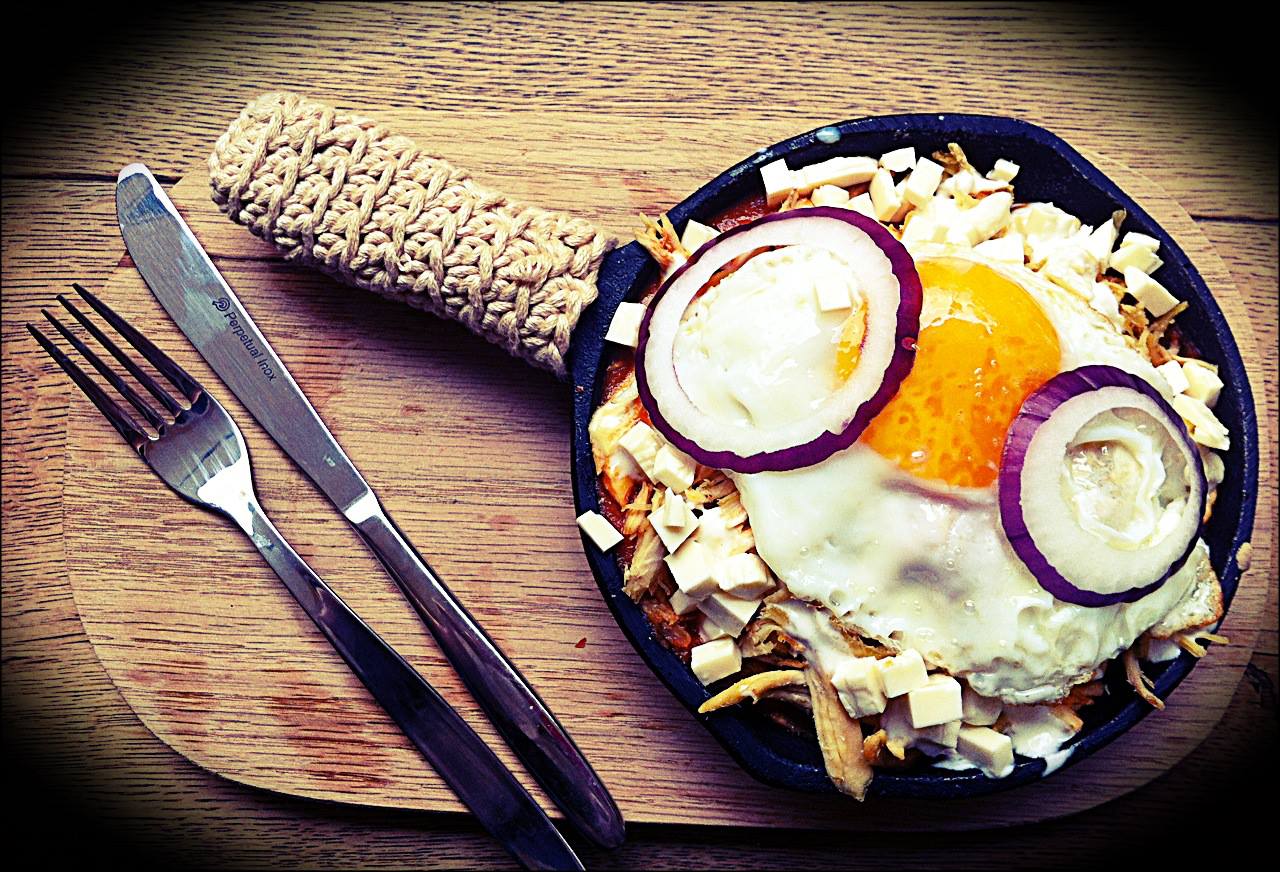 Eating healthy, and delicious is the philosophy of this small market-lunchroom. The market offers lots of organic products: fruits, seeds, honey, coffee and chocolate. Everything they serve is scrumptious, and especially the Chilaquiles, poured with your choice of homemade, organic sauce, and fresh queso (no preservatives added).
They also offer an assorted selection of natural juices, shakes and smoothies to revitalize, des-intoxicate or get rid of that cold. The atmosphere is young spirited and unpretentious and designed to show off recycled objects: lamps made from glass bottles, crates with fresh fruits; and at the center there's a long table allowing diners to interact, and as at lots of Condesa restaurants, it's pet friendly, too.
Citlaltépetl 23-C, col. Hipódromo Condesa
Telephone: 63 95 8000
El Péndulo
El Péndulo is an amazing chain of bookshops in Mexico City. The one in Condesa has a lovely first floor where you can eat or drink while reading a book by the natural light from the windows. Famous for its book and cds selection, as well as for original cards, toys, games and memorabilia (for sale at the entrance), El Péndulo is known for serving some of the city's best chilaquiles. Not too spicy, with perfect corn tortillas, they'll come topped with your choice of green or red salsa, abundant queso fresco and cream. The El Péndulo bookstore in Mexico City is regularly included in lists of the world's best bookstores.
Address Nuevo León 115, Colonia Condesa
Telephone: 52 86 94 93
La Ventanita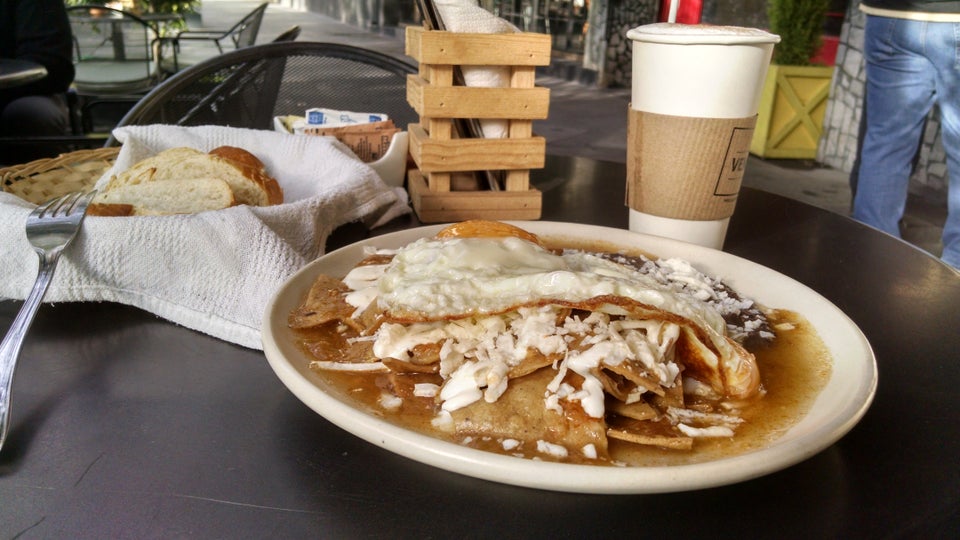 This "ventanita" is literally a tiny window where orders are taken and food is fantastic. Seating is only outside and the place is designed to lessen the rush of Mexico City. In front of Cibeles Fountain, la Ventanita is nestled between walls of plants and greenery.
The menu is simple and delicious. They roast their own Chiapas coffee and serve excellent chilaquiles with homemade green sauce and a fried egg on top.  An excellent choice for near-street level chilaquiles.

Address: Plaza Villa Madrid 13, col. Roma Norte
Phone: 55 33 64 40
La esquina del chilaquil
Tortas come in different varieties, but when La Esquina del Chilaquil (the corner of the chilaquil) decided to sell tortas at the corner of Alfonso Reyes and Tamaulipas in colonia Condesa, they never expected to see lines of people waiting to eat this delicious Mexican specialty. But that's what happened. It's a meal in itself. Try the torta filled with Chilaquiles, deep-friend chicken breast, refried beans, and cream and queso fresco. Preparation alone provides quite a spectacle. There's always a queue but it's definitely worth the wait. Opens 363 days a year, excluding Dec. 25th and Jan. 1st.
Address: Alfonso Reyes 145, Hipódromo, Condesa
La Lorena
"Shabby-chic" at its heart, La Lorena is decorated in white and blue, has an eclectic menu where their homemade scones are the stars of the menu. However, the Michellin Star was won by the Chilaquiles, served – a la nouveau cuisine – prepared with crispy fine tortilla strips topped with a an organic homemade fresh sauce. "The only possible magic is the friendliness that comes from the heart".
Address: Monte Libano No. 265, Lomas de Chapultepec.
Telephone: 52 02 45 94
Peltre
The main idea of this restaurant was to create an authentic "lonchería" and give to Condesa an eatery where people can feel they are a part of the 'barrio'. Chilaquiles here are scrumptious, and so abundant you'll need to walk them off. Served with lots of queso fresco and cream, you can order them with Arrachera (a cut of juicy beef), eggs (scrambled or fried), or try los Divorciados  split with green and red tomato sauce.
Chilaquiles and all dishes are served in peltre,  enamel-ware previously reserved for Mexican lower classes.

Address: Saltillo 73, col. Hipódromo Condesa
Phone: 52 11 61 78
Chilakillers
Located at the foot of the famous Ermita building, this restaurant opened two years ago. Great Mexican kitsch design, a wide variety of chilaquiles and sauces, from mild to super spicy (try the sauces before ordering), huge portions, low prices ($100 MXP per person), and friendly service, make of Chilakillers the place, par excellence, where you can enjoy this typical Mexican dish. Whether you order them with beef, Arrachera meat, eggs, nopal (cactus), or rib beefsteak, you are in for a delicious typical Mexican dish. The sauces – green, red, bean, chipotle, mole or super spicy- are the best. For carbohydrate lovers, nothing like a tortas of chilaquiles (you know, the typical Mexican crispy on the outside, soft on the inside bread, a variation of the baguette), while protein lovers can order an omelet stuffed with chilaquiles. No, it's not a requisite to have a hangover to enjoy this restaurant. After a night of excesses it sure tastes good to accompany your chilaquiles with an ice-cold beer. Cheers!
Address: Avenida Revolución 23, col. Tacubaya