Vinyl records keep playing in lots of Mexico City's more progressive retro-haunts. Here are five of the most important.
"In the era of music portability, vinyl offers a comfortable throwback to simpler times. Fans… have embraced purchasing LPs as an alternative to buying clothing, posters, etc.," said Jim Olsen, cofounder of the Americana-focused Signature Sounds Recordings.
Though digital audio technology has improved over the years, some audiophiles still prefer what they perceive as the warmer and more detailed sound of vinyl to the sound of CDs. Some listeners were also disappointed by what they considered to be unfaithful re-mastering of analog recordings. The advent of higher-quality digital formats, notably SACD, offers the tantalizing possibility of combining the high-quality sound of the best analog recordings with the convenience and durability of the CD.
Many artists still release recordings, in limited pressings, on vinyl. For DJs, mostly in the electronic dance music or hip hop genres, vinyl has another advantage over the CD: the direct manipulation of the medium. While with CDs or cassettes one normally has only indirect manipulation options (the play/stop/pause etc. buttons), with a record one can put the needle a few tracks farther in or outwards and accelerate/decelerate the spinning or even reverse the direction if the needle and record player is built to withstand it). However some professional CD players now have this capability.
For some music-lovers, the mp3 sound is like feeding their ears with fast food, to them it's a uniform sound of poor taste and no texture. Others, still worship the vinyl as it brings back memories of yesteryear when the Long Play, or 33-1/3 vinyl rpm microgroove record made young and old generations happy.  Regardless of the hipsters who believe to have found the philosopher's stone, the truth is LPs never disappeared, and despite the fact the vinyl music industry has faced tough times, there's always been a group of music-lover rescuers who have managed to preserve the Long Play format, and keep it from banishing to the kingdom of oblivion. So, it's either time to dust off grandpa's old turntable, or buy a new one and enjoy listening to your favorite albums. Here are a few shops in CDMX where you can spend hours browsing through classical albums, as well as the newest launchings.
Discos Mono

Discos Mono is a record store in Mexico City, specialized in international independent music, where each album is meticulously chosen. They work with distributors like Forced Exposure, Revolver, Secretly Canadian, Mexican Summer, Light in he Attic, etc. Their motto is "handpicked vinyl for the curious soul". It's the best place to find the most bizarre vinyl records in the Aztec capital.
Address: Jalapa 129-B, col. Roma Norte, México, D.F.
Telephone: 01 55 6724 0261
Retroactivo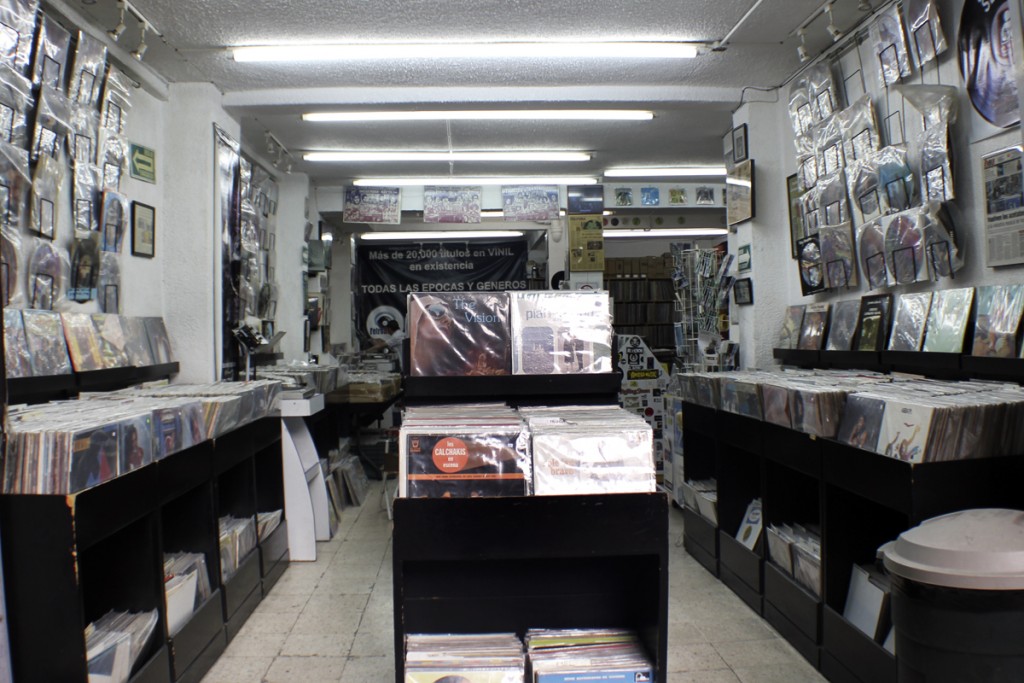 Retroactivo Records started out as just a guy selling old records in his mum's vintage shop, but soon enough he had enough cash to move into his own space (he even has a vinyl assembly plant!). The shop features one of the biggest second-hand vinyl collections around that span from the 60s to the 90s. It includes limited edition records, along with all the latest releases. You can negotiate exchanging records and have them buy your old vinyl albums. The owners are planning to expand the space so they can hold in-store sessions.
Address: Jalapa 125, col. Roma Norte, México, D.F.
Telephone: 55 5564 2565
Discoteca Online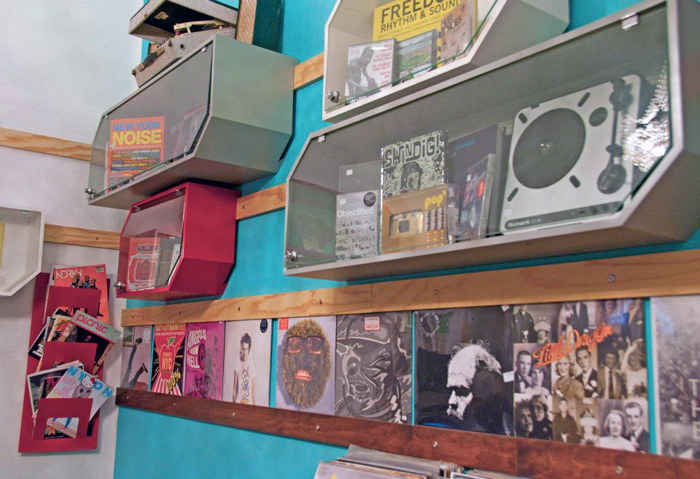 Besides selling records, CDs, cassettes, international magazines, and vinyl albums from Independent Mexican Record Labels, Discoteca also provides workshops where they address many of the issues that shape the world of electronic and independent music. They've been in the business for years and have an online shop well worth checking out.
Address: Zacatecas 43, col. Roma Norte, México, D.F.
Telephone: 01 55 5212 0234
La Roma Records
La Roma Records is relatively new, but always on it with the latest releases. It also stocks turntables, imported books, Magazines, bands t-shirts and DJ equipment. They have an impressive section with remixes. You can also find Mexican national labels like Arts & Crafts México, Terrícolas Imbéciles and Discos Tormento, among others. They anywhere in the Mexicn Republic; you can special order something and Agustín Lagos will helps his customers sell any unwanted vinyl albums. La Roma also sells CDx, books, collectable items, and International and Mexican music magazines.
Address: Álvaro Obregón 200 Bis, col. Roma, México, D.F.
Déjalo Ser Records
Juan Celís Garcí and his mom Rosa Elia are the owners and founders of this shop in the Lagunilla barrio. Everything started when, due to a financial crisis, Juan's father was force to sell his vinyl alum collection; he had collected them for 30 years. He thought that if his collection sells well, he would buy more and more vinyl albums to sell. He then decided to set up a stall in Matamoros street, in la Lagunilla. Twenty years later, they decided to formally open the store. Mr. Juan Celís senior was a Beatles fan, and the song "Let it Be" inspired the name of this mega complete store in the Lagunilla.
Address: Peralvillo 5, Cuauhtémoc, México, D.F.
Mobile: 044 55 1501 4898
Discos Chowell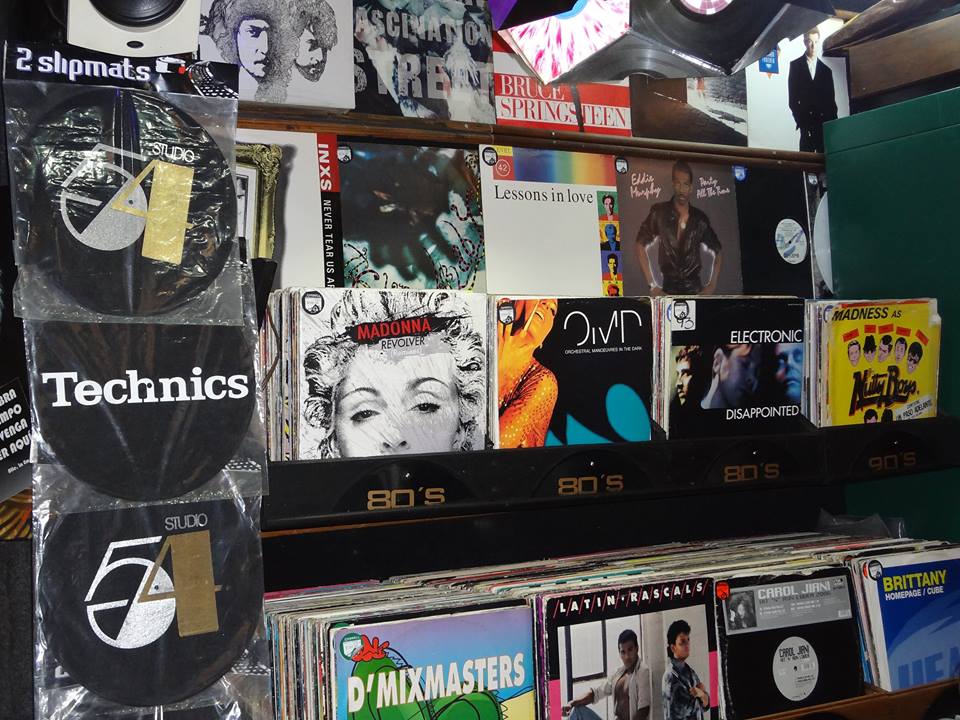 Hidden between the alleyways of Centro Histórico is this gem of a record shop. Their specialty is high energy, but they also have an impressive selection of rock of the 60s, and more recent music. If Mr. Jesús Chowell isn't, it's worthwhile waiting for him. He is extremely knowledgeable and friendly.
Address: Calle de Mesones 12, Centro, col. Ejido del Centro, Mexico, D.F.
Other options
If you can't find a vinyl album and you are up to for some treasure-hunting, consider visiting flee markets such as lBazar Cuauhtémoc, Mercado de la Ciudadela, Jardín Dr. Ignacio Chávez, Tianguis Cultural del Chopo, and old-time book shops. You'll probably find what your are looking for and at more affordable prices.