Pulque still conjures images from Eisenstein's Que Viva Mexico.  But a slate of happening new (and some older) pulqueria's in Mexico City have made sure the stuff is fit for modern tastes. And it's not just pulque. A range of similar, mostly sweet and vaguely hallucinogenic concoctions are following the stratospheric trend of Mexican mezcal toward not only infamy, but true recognition on the palettes of the brave.  True, many of them may give you a historic hangover – but in moderation – they'll also give you a taste of, and some insight into, some of Mexico's most ancient traditions.
Pulquerias have been around since ancient times – as has pulque. All of the other, similar drinks have ancient and pre-Hispanic roots too. Many of them are from distinct regions within the country and all of them are being re-presented – with new respect and some considerable fanfare – to a Mexican public newly primed for crafted and heritage drinks.
Below are some of the finest places to sample not just pulque, but similar drinks in all of their new and updated variations.
 
La Poxería – "Pox" in Roma Norte


 
Pox is a Maya drink made since well before the Spanish – from distilled cane or corn. A little similar to a mezcal, its affect is reportedly quite powerful. Poxería, in Roma Norte, is probably the only place selling pox in the city, and a full menu is intended to highlight, this, the drink around which the entire place turns.  And there's more here.
Address: 215 Durango, Col. Roma Norte
Hours:
Tel. 55 5507 5185
Moxie – Tepache in Condesa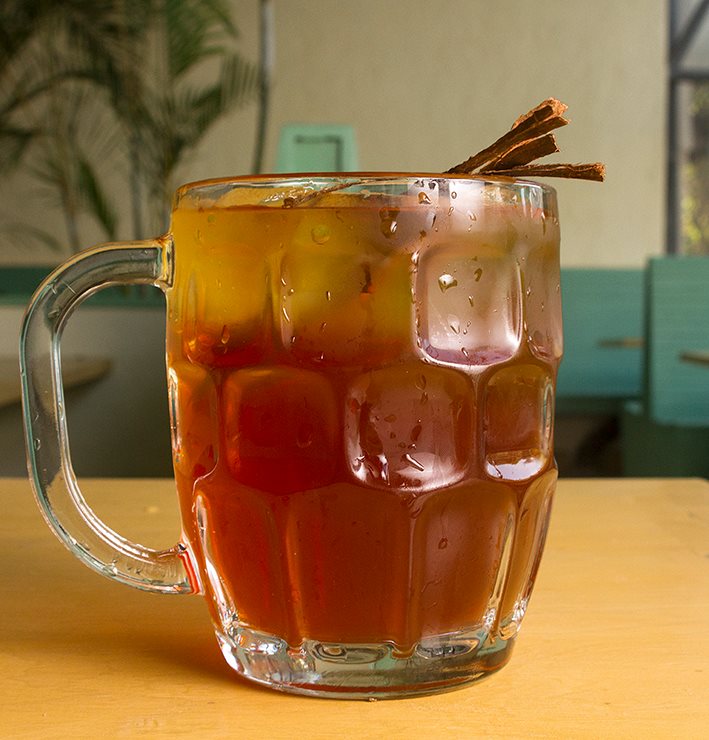 Tepache's got pretty much a terrible reputation. But it's not warranted. Made from pineapples, sometimes from leftover pineapples – when fermented, it's the stuff your crazy aunty has nightmares about. But think about it. Cold fermented pineapple drinks? Nothing could be more ready for a gourmet intervention.  Served up with the house's artful tostadas, you're in for a powerful punch right in the kisser. With an optional dash of a very deep mezcal, Moxie's tepache is breathing new life into the onetime refuge of some very down-on-their-luck booze hounds. Today, it's turning even Condesa's snootiest noses. Read more on the food here.
Address: Calle Michoacan No 78. Hippodrome Condesa
Tel. 55 5211 5561
Hours: Sunday to Wednesday 13:00 to 00:00 hrs. / Thursday to Saturday 13:00 to 1:00 hrs.
La Nuclear – Pulque in Roma Norte

Most internationals learn about pulque on the highway to the pyramids where hand-painted clapboards have beckoned motorists for decades. But the pulquerias in the city cater to younger people seeking lighter, fruitier concotions, with less angst than beer and none of the commitment of a hard night out. Pulquerias do happy hours. And one of the finest is La Nuclear in Roma Norte. Even late, the pulque is refreshing and a few other things can go along with your foamy choice.
Address: Querétaro 96, Cuauhtemoc, Roma Norte
Tel. 5574 5367
Hours:
Monday to Thursday 16:00 to 23:00
Friday to Saturday 16:00 to 2:00 hrs.
Cafeelería – Pozol in Coyoacán
Chiapas inspires a lot of food, drink and spirit. Even all over Mexico. Cafeleería is essentially a cafe, but the emphasis is on a pozol drink made of cooked maíz, cacao, and with a bit of sugar and cinnamon. Much more common inside Chiapas than out, it's a pretty emotional drink for lots of people from there and it's not exported nearly as widely as some other famous things from Chiapas like sugar and coffee. For the rest of us, pozol is not at all out of place between the coffee and tea also on the menu, and bears some resemblance to the atole served in many other parts of the country. And frankly, the coffee is very good too.
Address: Av Taxqueña # 1832 Local B, Coyoacan.
Tel. 55 5646 5228
Hours: Monday to Saturday 9:00 to 21:30 hrs.
Xaman
Juarez's red hot night scene gets an agave boost at Xaman. Lots of gnarly mixed-up drinks include agave syrup and the goal seems to be for something like a melding of Tequila and Mezcal with a trancendental burst of lime. These guys play hard with the high-balls and many of them are unforgettable. With a full bar, there's also nightly DJs and plenty of drinks that you won't swill anywhere else.
Address: Copenhagen 6 Col. Juarez.
Hours: Tuesday to Saturday 18:00 to 2:00 pm
Phone: 5511 0396
 
Ayuntamiento 141 – Yolixpa in Centro Historico

Some of the best places are always named for their addresses right? 141 has excellent food: pambazos, tlayudas, and huaxontle. But less well know is the Publa mountain drink called yolixpa – mixed up from 32 native mountain herbs and considered the "drink of the gods." The concoction has medical origins and is generally mixed up and drunk to combat the cold. Like those Chiapas drinks above, this one is rare outside of some remote parts of Puebla, and drinking it ought to make you feel like a god. The bar is rounded out with a pretty astounding selection of mezcals and tequilas.
Address: Auntamiento 141, col. Center
Phone: 55 4632 0211
 
Facebook
 
 
Mano Santa – Mezcal in Roma Norte
 

 
One the best of Roma Norte's mezcalerías, Mano Santa serves just 100% original, mezcal from Matatlán, deep in the state of Oaxaca. Many believe these are the finest mezcals, but you need to stop in and taste a few to judge for yourself. There's also a very full bar, and while the atmosphere feels very "drink heavy" it's still one of the more light-hearted mezcalerias, with lots of wine and beer on offer too.
.
Address: 219 D Insurgentes, Col. Roma, CDMX
Hours:
Tuesday to Thursday 20:00 to 1:00 pm
Friday to Saturday 20:00 to 2: 00
Sundays 19:00 to 24:00 hrs.
Tel: 5587 1715
Las Duelistas – Pulque in Centro Historico
Trendy as it is, this place has been trendy and not trendy off and on for 104 years. Think about that when you tell someone that pulque is new. and trendy. The photo above shows it's been redecorated – but then folks come for the pulque. And come they do. Pulque is celebrated and mixed in a dozen different variations. And just off some of Centro's busiest market streets, it's a welcome releif from shopping, and eating and touring.
Address: Aranda 28, Col Centro, Mexico City 06000, Mexico, DF
Phone: 5513940958